FOR IMMEDIATE RELEASE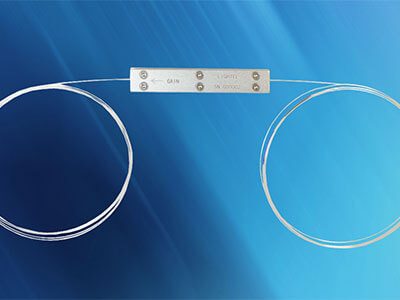 RENTON, Wash., September 18, 2019 — Lightel Offers FBG Mirrors for Fiber Laser Applications
Fiber Bragg Grating (FBG) mirrors are distributed reflectors fabricated in an optical fiber that can be utilized to produce a laser cavity in a fiber laser. Lightel now offers FBG mirrors that have been optimized to address the requirements of low noise and high efficiency fiber laser applications.
Lightel's FBG mirrors feature low thermal slope, precise wavelength matching with a wide reflectivity range. Our process also allows us to fabricate FBG mirrors on a large variety of standard, custom or harsh environment fibers. Lightel's FBG mirrors can be delivered in our high-power thermal dissipative package (also provides mechanical and shock protection and reduced wavelength drift) or simply recoated with a rugged low index polymer. Lightel can also write the FBG mirror on the output fiber of the pump combiner, thereby eliminating a splice, increasing the fiber laser assembly reliability and reducing assembly time.
About Lightel
Incorporated in 1999, Lightel Technologies was founded to bring advanced optical components, and equipment to the optical communications, aerospace, and sensor industries. Lightel maintains its headquarters in Renton, Washington, with additional manufacturing facilities for high volume, cost sensitive production offshore. Our products are sold worldwide, with distributors in key locations to offer the best customer services possible.
Since the initial passive component product development, Lightel has emerged as a technology leader several key product areas, including Fused Biconic Taper (FBT) coupler workstations, a full line of FBT components, Thin Film Filter (TFF), and other micro-optic components, video microscopes for inspection, cleaning, test and analysis.
Press Contact
Mark Curran
mark.curran@lightel.com
(425) 277-8000